What is Worship?
Worship is what we say and do in our lives that tells about God's greatness and gives thanks for everything God has done for us in Jesus Christ. Worship is not only something that we should do on Sunday mornings; it's something that we do with our whole lives.
What Should I Expect at Sunday Worship?
While we won't ask you during worship to stand up or wear a goofy name tag, you can expect to be welcomed by us individually. Although our forms of worship may change from time to time, you can expect us to sing, pray, read & preach from the Bible. We celebrate the Lord's supper on the first Sunday of each month. Our choir sings September through May. And our musicians can play! Check out this duet by Roger and Nancy Wilhite!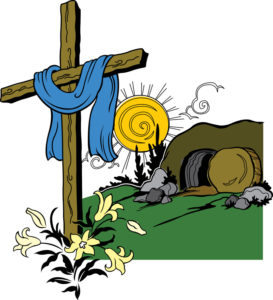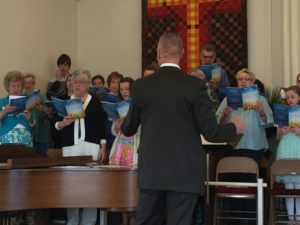 Roger Wilhite directs our Easter Choir!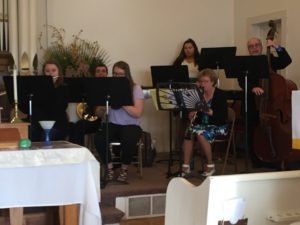 Our Easter Orchestra!
Together they performed great music to lead our celebration of the Lord's Resurrection!
Sunday June 4 – Pentecost – Communion – Sermon: Visions and Dreams
Sunday, June 11 – Trinity Sunday – Sermon: Disciple Making Time
Sunday, June 18 – Father's Day – Sermon: Over Come Evil with Good
Sunday, June 25 – Interim Pastor Bill Taylor's Last Sunday at Aurora Presbyterian Church
Sermon: "Needed: A Letter of Recommendation" – Sacrament of Holy Communion
Sunday, July 2 – Independence Day Weekend – Worship at 9:30 am
Guest Pastor The Rev. Peter Blank – Pastor First Presbyterian Church Woodburn OR
Sunday July 9 –  Welcome Aurora Presbyterian's
New Pastor Amber K. Slate to the  pulpit and congregation
We look forward to your joining us for these worship experiences  based on our core beliefs as Christians and Presbyterians.

Who is Welcome in worship? Do I Have to Look, Act, or Dress a Certain Way?
We invite you to come as you are to worship! Our congregation has worshipers with dressy attire and also those who wear casual clothes. We have restless  kids and people of every age. We are all imperfect people worshiping a merciful God. If you are curious about whether God is alive or you wonder about Jesus or you want to stretch your faith in a caring place, then you are welcome here.