Rev. Cynthia J. O'Brien, pastor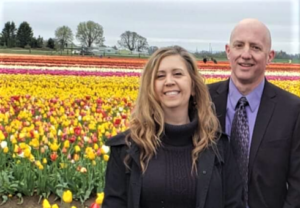 Cynthia became our pastor on Christmas Eve, 2019. She is a graduate of the University of Southern California (choral conducting and journalism) and Fuller Theological Seminary (M.Div.). She has served churches in Los Angeles, San Diego, and in the Portland area, first as a music director and praise band leader, as Christian Education director, then 27 years as an ordained minister. She is currently also the pastor of First Presbyterian Church of Woodburn, and considers it a "double blessing" to start Sunday mornings with Aurora's service at 9:15, then drive to Woodburn for the 11:00 service there. She is a nationally recognized leader in the grassroots organization Better Angels (local chapter Better Angels PDX), teaching people how to talk across the political divide. Her husband, the Rev. Michael O'Brien, is a high school teacher who specializes in advanced mathematics. They have two adult daughters, Rachel and Laurel. She can be reached at pastor@aurorapres.church.

Caroline Queer: Office Administrator
Caroline moved from Lanagan, Missouri to Canby, to be closer to her son and his wife, Jason and Lisa.  Her background includes 31.5 years at the Walmart Home Office in Arkansas.  Caroline was an active member of the Noel United Methodist Church.  She is a graduate of Bluffton University in Ohio with a BA in Family and Consumer Sciences.  She enjoys singing, RV camping, exploring the PNW, spending time with Jason and Lisa, and hanging out with her pets.
The church office can be reached at office@aurorapres.church.

Roger Wilhite: Music Director
Roger graduated from George Fox University with a B.A. in Music Education, and was later named the Young Alumnus of the Year. He received his Masters of Music Education from the University of Nevada-Reno. He taught choir and band at North Marion Schools.  As a professional musician, Roger and his wife Nancy have performed in Europe,  Reno, and Lake Tahoe as a two-piano team.

Colby Gianella: Pianist

Vie Anderson: Church Treasurer

Allen Trivitt: Financial Secretary

Nancy Trivitt: Clerk of Session